Gain

control

over data processing - one consent at a time.
The most efficient platform for managing consents. We help you track and build trust with your customers.
Try our solution now – scan the QR code or click the button and discover how easy it can be!

Integrer i deres tjenester




Samtykker må innhentes på rett plass og i de grenseflater brukeren opptrer. Tjenesten kan enkelt integreres og fremstå som en naturlig del av selskapets egne tjenester, apper og skjemaer via API/widget.

Tilknyttet brukere for etterlevelse av krav




Samtykker skal kunne trekkes tilbake like enkelt som de er gitt.

Med denne tjenesten kan samtykker kobles mot brukere i deres eksisterende systemer med mulighet for å enkelt forvalte disse etter behov.

Veiledning og forvaltning




​Samtykker skal utformes og forvaltes i henhold til gjeldende krav og regler.

Tjenesten veileder deg for korrekt utforming av samtykkeerklæringer, lagrer og arkiverer informasjonen etter gjeldende standarder og gir din virksomhet en komplett oversikt.
1
Create a user on our website in 1-2-3.
Utilize the service as a stand-alone or integrate it into your website.
2
Link existing consents to a unique ID across systems and administrative areas.
Create new consents for various needs.
​
3
Add a

responsible

person to your business, the relevant consent declaration, and pertinent information for your customers.
4
Your customer can now easily use the solution where consent is documented as obtained.
Opprette og publisere samtykkeerklæringer

Maler og hjelpefunksjoner

Administrer samtykker på tvers av virksomheten

Administrer versjoner av samtykkeerklæringer

Administrerer samtykket som et dokument

Overholder dokumenthåndteringsstandarder

Rapportering og dashbord, for alle bedriftsnivåer

Konsistent forhold mellom samtykket og samtykkeerklæringen

Tilpasset både offentlig og privat sektor

Tilknyttet eksisterende brukere eller etablert med nye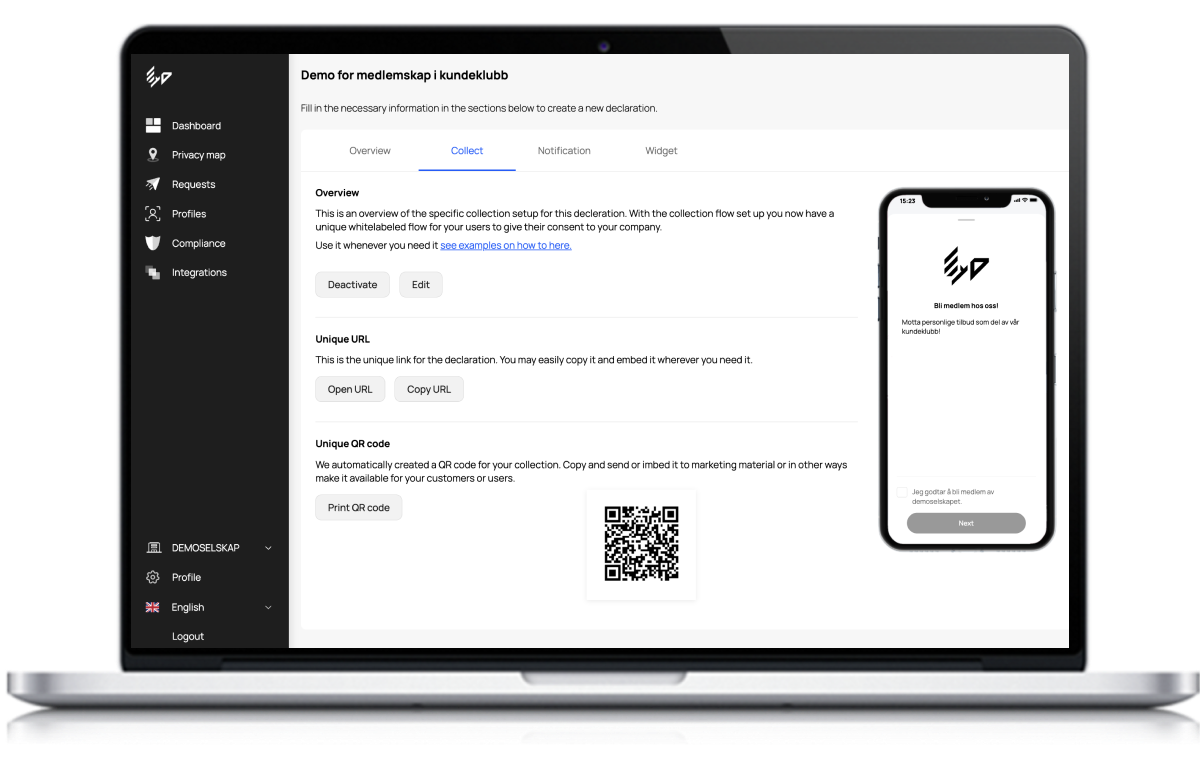 CONSENT MADE

SIMPLE

.
Ensure the management of consents across various services and business areas against a

unique ID

.
Get started with our user-friendly portal in just a few minutes!
Here's how simple and efficient it is:
Choose from multiple collection methods – whether it's via SMS, email, direct link, or a handy QR code, we have the solution for you.
Trust secure identity verification to ensure that the consent you collect is valid and reliable.
Register your organization number and customize the solution for your business – with easy integration into your existing customer portal, CRM, or other systems.
Our solution allows you to customize according to your design profile, making the consent process a natural extension of your brand.
Associated users for compliance with requirements Concents should be as easy to withdraw as they are to give.
With this service, consents can be linked to users in your existing systems with the ability to easily manage these as needed.
The service guides you in the correct formulation of consent declarations, stores and archives the information according to current standards, and gives your business a complete overview.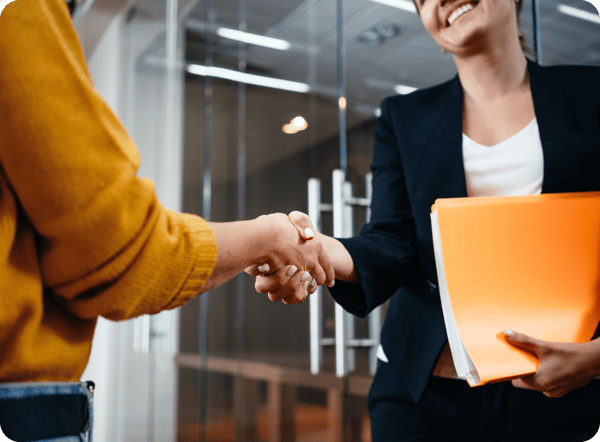 What does EYD mean by "Consent Made Simple"?

By simple, we mean that you can get started and be in accordance with current regulations in 1, 2, 3:

A dedicated portal for setting up and managing all consents.
Customized consent collection page set up in 2 minutes.
Options for collection via SMS, email, link, or QR code.
Easy activation of secure ID verification with Bank ID as needed.
Why use our solution?

EYD develops and delivers a platform for insight into personal data to create transparency and value for individuals and businesses in collaboration with Traq for the collection and documentation of consents.

Provide increased security to your individuals/customers with full insight and overview of given consents.
Easy to start as a stand-alone service as part of internal processes, but can also be integrated with other solutions.
Create, collect, and manage consents across service areas in the company.
The company gets documented consent obtained according to current standards for document management:

ISO 15489
ISO 16175
ISO 23081
ISO 30301
Dublin Core
Noark 5 / MoReq2010
What is personal data?

Personal data is any information that can be linked to a person, either directly or indirectly – by compiling different pieces of information.

This could be, for example, your name, age, height, what you study, who your parents are, which bank you use, or which football team you support. All this is information about you as a person.
What does GDPR really mean?

GDPR stands for General Data Protection Regulation. It means that Europe, along with Norway, has created some rules for what companies can collect, store, process, and ask you about as a customer/consumer. GDPR is designed precisely to protect and assist you as a human being in a society full of technology!
What does it mean to give consent?

To process personal data, businesses must have what is called a legal basis. In other words, a basis that makes the processing of personal data lawful. Consent directly from the data subject (the person the data is about) is a practical legal basis.
What is a valid consent for processing personal data?

A valid consent must be informed, specific, and given through an active action by the consumer, such as clicking a button or checking a box. The consent must be voluntary and can be withdrawn as easily as it was given.

Voluntary.
Specific.
Informed.
Unambiguous.
Given through an active action.
Documentable.
Possible to withdraw as easily as it was given.
What is meant by legal basis in the context of personal data?

The legal basis refers to the legal conditions that must be in place for a business to lawfully process personal data. This can include consent from the person concerned, that the processing is necessary to fulfill a contract, necessary to fulfill a legal obligation, or that there is a legitimate interest that allows it.
Can personal data always be collected if they are included in the terms of the agreement?

No, even if the terms of the agreement state that certain personal data will be processed as part of the service, the processing must be objectively necessary for the delivery of the service to be lawful.
What does it mean that consent must be able to be withdrawn?

It must be possible to withdraw consent without negative consequences, and it should not be more difficult to withdraw consent than it was to give it. Upon withdrawal, the relevant personal data should normally be deleted, unless they are processed for other purposes with another legal basis.
When is explicit consent required?

Explicit consent is required in cases such as processing sensitive personal data, automated individual decisions, and data transfer outside the EU/EEA. Explicit consent must be given in an extra clear manner, such as a written statement or by using secure authentication.
What applies to consent for children's use of digital services?

When digital services are aimed at children and consent is the legal basis, consent must be obtained from parents or guardians if the child is under 13 years of age. The business must also take reasonable measures to verify that consent has been given by the right person. The age limit may vary in other EU/EEA countries.